If you would like to receive email notification of coming events, please click on the Contact Us link  and send us an email with the requested details.
Following the Pre  DA consultants  report
Willoughby City Council
has suspended all productions on the
existing stage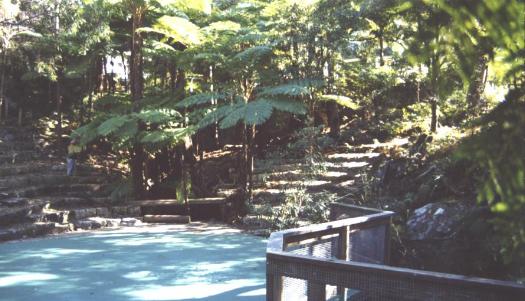 The Haven Amphitheatre Needs Our Urgent Attention
It seems that not only was the 2013 Carols by Candlelight Spectacular at The Haven Amphitheatre the 30th annual Christmas production,  it was also the final performance on the existing stage.
Following a recent engineering inspection of the Haven stage, The Haven Amphitheatre Management Committee has been informed by Willoughby City Council that no further performances can be held on the Amphitheatre Stage as the old stage no longer complies with the relevant codes. The condition of the stage support structure  has not been fully accessed.
This means that the stage must now be modified or replaced before it can be reused.
The Council has received a concept proposal from the Committee for a replacement stage and has established a web site displaying this concept.  By this means Council is informing the public of the proposal and wants the community's response. This response will assist the council to brief the architect. (yet to be appointed).
There has been a concerted effort by a small number of people to undermine the stage replacement proposal. Their comments have been addressed in a letter to Willoughby City Council a copy of which is on  this website.
Please be informed, The Haven needs your help now.
Simply put, if we wish to retain the cultural heritage so wonderfully served by this unique community facility, we The Friends of The Haven need to act now. 
If you have ever enjoyed Christmas Carols, any of the dozens of Cabarets, plays, concerts and even circus,
An.  email@willoughby.nsw.gov.au will assist us all.
For more detailed information on both the concept plan and the answers to various questions see our Q & A